[ad_1]
Presidential hopeful Ramaswamy gave an impromptu performance of Eminem's 'Lose Yourself' onstage during a campaign event in Iowa earlier this month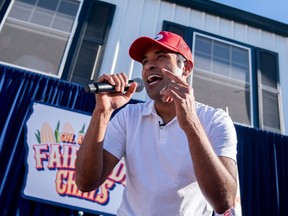 Article content
Republican presidential hopeful Vivek Ramaswamy gave an impromptu performance of Eminem's "Lose Yourself" onstage during a campaign event in Iowa earlier this month.
But the Grammy-winning hip-hop artist wants that to be the political newcomer's only performance — at least when it comes to Eminem's music. Nearly two weeks after Ramaswamy showed off his rapping skills at the Iowa State Fair, Eminem asked Ramaswamy's campaign to not do that again.
Article content
Music licensor BMI said the renowned rapper objected to Ramaswamy's use of his compositions — the "Eminem Works" — and asked that Ramaswamy's campaign stop using his music.
According to an Aug. 23 letter to Ramaswamy reported by the Daily Mail, BMI will "consider any performance of the Eminem Works by the Vivek 2024 campaign from this date forward to be a material breach of the Agreement for which BMI reserves all rights and remedies with respect thereto."
Everything you need to know about the first GOP presidential debate

Republican presidential hopefuls debate in Milwaukee, vying to be leading alternative to front-runner Trump
Tricia McLaughlin, a senior adviser to Ramaswamy's campaign, said in an email response to questions about Eminem's objection that Ramaswamy "just got on the stage and cut loose."
"To the American people's chagrin, we will have to leave the rapping to the Real Slim Shady," she said.
Article content
This is not the first time the rapper, who's also known as Slim Shady and was born Marshall B. Mathers III, has snubbed a Republican politician.
On the day of the third and final presidential debate of the 2016 election, Eminem released a surprise song titled "Campaign Speech" warning Americans against then-candidate Donald Trump. Nearly a year later, at the BET Hip Hop Awards, the rapper said Trump's policies were harmful to America and criticized fans of his who voted for Trump in 2016.
Right before the 2004 election, Eminem released a political protest song called "Mosh" that criticized President George W. Bush.
While Eminem has often let his music do the talking, politically, he allowed Joe Biden's 2020 campaign use "Lose Yourself" — the same song Ramaswamy performed in Iowa — in an advertisement that aired the day before the election. The rapper shared the ad on Twitter with the caption: "One opportunity … #Vote."
The Detroit rapper has also used his platform to support gun-control initiatives and advocate for abortion rights, tweeting in 2022 about his disagreement with the Supreme Court's decision to overturn Roe v. Wade. The rapper, who was born to a teen mother in a White, working-class family in a small town in Missouri, has often referenced in his music the racism, police violence and poverty Black Americans face, and his lyrics also talk of challenges low-income Americans face throughout the nation.
Article content
Ramaswamy, who is a long shot to win the Republican nomination and a political newcomer, has depicted himself as a Republican very much in line with Trump's movement and has made multiple appeals to the former president's supporters by using some of Trump's rhetoric on race. During last week's Republican presidential primary debate, Ramaswamy said "reverse racism is racism," a statement that could resonate with Republican voters.
Moments ahead of his performance in Iowa, Ramaswamy — who used to rap as a student at Harvard University under the stage name "Da Vek" — was asked by Iowa Gov. Kim Reynolds (R) what his favourite walkout song is. He responded with "Lose Yourself." The song, which was from the 2002 film "8 Mile" and won the Oscar for best original song, contains autobiographical elements from the rapper's life and his overcoming of obstacles in his path to fame. Ramaswamy gleefully performed part of the song to a cheering crowd at the Iowa State Fair, and the moment went viral online.
While campaign theme songs date from the days of George Washington, clashes between candidates and musicians only became a fixture of campaign seasons starting in 1984, when President Ronald Reagan, while campaigning in New Jersey, mentioned native son Bruce Springsteen and his "message of hope." Springsteen, whose "Born in the U.S.A." was a hit at the time, complained that Reagan was co-opting his image.
Article content
Such tiffs have become a common part of the American political landscape in the nearly 40 years since.
Four songs got Bush into hot water during his two successful presidential campaigns, in 2000 and 2004: Tom Petty and the Heartbreakers' "I Won't Back Down," John Mellencamp's "R.O.C.K. in the U.S.A.," Sting's "Brand New Day" and Orleans's "Still the One."
In 2008, Republican presidential nominee John McCain took flak from the band Heart because his campaign played "Barracuda" as his running mate, Sarah Palin, walked onstage at the Republican National Convention.
Soul and R&B legend Sam Moore sent a letter to then-Sen. Barack Obama requesting his 2008 presidential campaign stop using "Hold On, I'm Comin'," the song he performed as a member of the group Sam and Dave. Moore told North Carolina's WFMY at the time that he thought it was "rather rude" that no one had reached out to get his permission to use the song, because its use suggested he supported the candidate. Obama's campaign, which had been using the tune for months to pump up crowds at rallies, agreed to stop using it.
Article content
In 2012, Petty's representatives told Rep. Michele Bachmann (R-Minn.) to stop using a snippet of his song "American Girl," which she used while announcing her run for president. That same year, the band Survivor sued another GOP candidate, Newt Gingrich, for using its signature song, "Eye of the Tiger."
In 2018, supporters of Trump danced to Pharrell Williams's song "Happy" as they waited for the then-president to take the stage at a convention in Indiana. The song played hours after a gunman killed 11 people at the Tree of Life synagogue in Pittsburgh in the deadliest attack on Jews in U.S. history.
Through his attorney, Williams threatened legal action, issuing a cease-and-desist letter to Trump, alleging that playing "Happy" amounted to copyright infringement and trademark violation.
Our website is the place for the latest breaking news, exclusive scoops, longreads and provocative commentary. Please bookmark nationalpost.com and sign up for our newsletters here.
[ad_2]
Source link