[ad_1]
Chest Fever: The Official Revival of The Band will perform at the theatre in downtown Sarnia.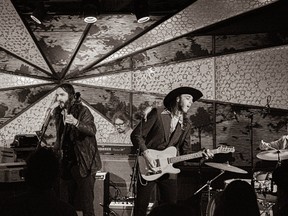 Article content
Sarnia-area fans of The Band and its lead guitarist and songwriter, the late Robbie Robertson, will have the opportunity to celebrate the 1960s and '70s-era group's ground-breaking music during a Sept. 8 concert at Sarnia's Imperial Theatre.
Article content
Chest Fever: The Official Revival of The Band will perform at the theatre in downtown Sarnia at 7:30 p.m.
Article content
Robertson died Wednesday at the age of 80.
"Robbie was at the foundation of The Band's incredible sound and so much incredible music after that," theatre executive director Brian Austin Jr. said.
"The rock world couldn't get enough of Robertson in the late '60s and early '70s with fans like Eric Clapton and George Harrison singing his praises."
Chest Fever – the name of a song from The Band's 1968 debut album Music from Big Pink – is made up of members of the San Diego band, Mrs. Henry, along with other musicians, and performs music of the The Band.
The show was booked last spring after the group reached out to the theatre, Austin Jr. said.
"I thought to myself The Band is such a great band and it's not an act that you see a tribute to very often," he said.
"I had them send me some promotional videos, and I was blown away by the production value, and how good they sounded. I knew they'd be a good fit for our audience."
Article content
Made up of Robertson and fellow Canadians Rick Danko, Richard Manuel and Garth Hudson, along with American musician Levon Helm, The Band released several albums with songs that include The Weight, The Night They Drove Old Dixie Down and Up On Cripple Creek.
The Last Waltz, a film of its farewell concert in November 1976, was directed by Martin Scorsese.
"I couldn't believe when I heard about the passing of Robbie Robertson," Austin Jr. said.
"We have been talking about The Band so much recently amongst the staff because we are promoting the upcoming concert, so the news didn't feel real when we heard it," he said.
"He was just a creative force . . . and made a profound and lasting impact on the music world."
Ticket information for the Sarnia show can be found online,  www.imperialtheatre.net, and from the theatre box office, 519-344-7469.
pmorden@postmedia.com


[ad_2]
Source link