[ad_1]
Those sectors have 'become a major driving force for our economy'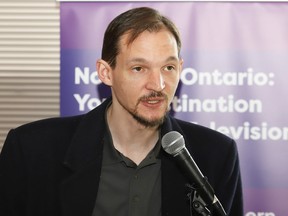 Article content
Sudbury-based Cultural Industries Ontario North will get $850,000 to continue growing the music, film and television industries in Northern Ontario.
Article content
"Northern Ontario's cultural industries have been rapidly growing, and CION, with support from FedNor, will fuel new growth and the expansion of our industries through production attraction and workforce development programs," Patrick O'Hearn, the associate executive director of Cultural Industries Ontario North, or CION.
"FedNor support will allow CION to deliver programs including training to expand the film crew workforce, development for musicians and their professional careers, and promotional and consultation activities to attract more productions to Northern Ontario," O'Hearn said.
Sudbury MP Viviane Lapointe announced the money on behalf of the Patty Hajdu, the minister responsible for FedNor.
Article content
The money is expected to create and maintain more than 30 full-time jobs, FedNor said.
"I'm pleased this investment in CION will help take our music, film and television industry to the next level by making it easier to produce content here at home in Northern Ontario," Lapointe said. "In Greater Sudbury alone, music and film production generates an estimated $155 million in economic benefits, while creating more than 5,000 full-time jobs in the region each year.
"This key industry has become a major driving force for our economy and today's announcement will help fuel its evolution and continued success." 
Provided through FedNor's Northern Ontario Development Program, the funding will help promote and attract private sector investment for music, film and television projects, creating new revenue opportunities for communities, artists and production professionals living and working in Northern Ontario.
Article content
This includes expanding the Crew Database and the ONStage Music Portal to help producers find skilled workers and connect musicians directly with industry professionals.
It will also allow CION to support skills training through a variety of proven initiatives, including its Media Arts Production: Practiced, Employed, Developed program, which provides non-repayable funding of up to $10,000 to film and television productions so they can train crew members for skilled positions.
This non-repayable funding will also allow CION to promote the region by hosting the 2023 Northern Ontario Music and Film Awards and Conference, as well as a series of showcase events featuring local artists.
As part of the project, CION will work directly with post-secondary institutions across Northern Ontario to foster direct learning and hands-on career training as part of regional film and television projects.
"Entertainment and art are some of the greatest social and economic drivers in Northern Ontario," said Nickel Belt MP Marc Serre. "I'm proud to see FedNor support the development of this booming field and build upon the $850,000 CION announcement made in 2019. This is positive news for Nickel Belt-Greater Sudbury as we have the talent and the skills to meet demand."
sud.editorial@sunmedia.ca
Twitter: @SudburyStar
[ad_2]
Source link