[ad_1]
Meshell Ndegeocello may have helped to kickstart the neo-soul movement in the 1990s, which introduced the world to D'Angelo and Erykah Badu, but to call her a soul singer would undermine her tastes, which are as wide as her discography is long. Speaking to me via a video call from her Brooklyn studio, where she dons all-black clothing against a backdrop of synthesisers and electronic rigs, Ndegeocello namechecks a cavalcade of faves: Broadway musicals, the classic sci-fi film Soylent Green, cult rapper Pink Siifu and young singer-songwriter Kara Jackson. The 54-year-old approaches magnetic new artists the same way that she did when she was a teenager gigging around her native Washington, DC – by learning the bass guitar parts to each of their songs. "If she needs a bass player, she should call me," Ndegeocello quips about Jackson, "'Cause I already know it."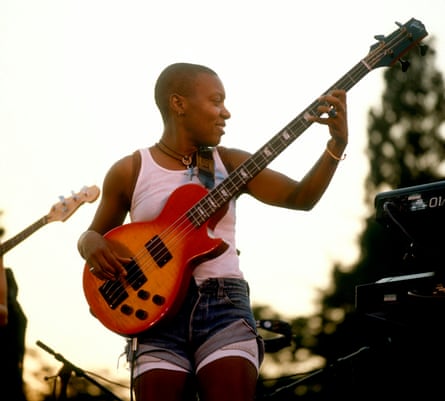 After hitting the US Top 3 with a John Mellencamp duet in 1994, Ndegeocello has maintained a quieter but consistently surprising presence in music, transcending the slow-burning soul of her debut LP Plantation Lullabies and its brilliant 1996 follow-up Peace Beyond Passion to try a slew of styles – among them rap, jazz, psychedelia and heart-on-sleeve rock. (The latter for 1999 masterpiece Bitter.) From the get-go she was outspoken about her queerness, unlike many musicians of her generation. Her 2018 album Ventriloquism, a covers collection shaded by the death of her parents, featured an inverted pink triangle on its sleeve: the symbol the Nazis forced gay men to wear. Ndegeocello turned this terrible emblem into a sign of solidarity tinged with Trump-era fear, though in her case sexuality means something more interior than political.
"It's not a sword or a flag to me," she says, and laughs. "It's like that gem that's inside Iron Man." Having bristled against so many potential cages of identity throughout her career – black, female, bisexual – she's tired of answering questions about her sexual orientation and gender, if relentlessly good-natured. "I don't think I'm really a spokesperson," she sighs. "I don't have that energy."
On her magnificent 13th album, The Omnichord Real Book, she deals more directly with the loss that hung at the margins of its predecessor. Her father, a jazz saxophonist, died in 2016, her mother in 2021 after years living with dementia – in 2017, she had disappeared for two weeks, driving away from her Maryland home, a trauma that was protracted enough – and Ndegeocello's celebrity sufficiently large – for local news outlets to pick up the story.
Now, Ndegeocello is learning how to persist without the foils that people with living parents often take for granted. "I have no one to blame any more for my inner hurts," she tells me, tearing up. "No one to please. No one to miss."
Her new album found its spark in a gift that her father, "a super sort of conservative jazz head", gave her when she was a kid: her first "real book" of song standards (a volume of musical notation that only shows the crucial elements of melody, lyrics and harmony). He bestowed her with the present "because a bass player didn't show up" to one of his shows; his daughter, who had just started playing, learned the value of being able to fill in on the fly. "When he'd come see me playing, he was just like: learn to get through the changes, learn to understand the harmony of the changes and fall on the rhythm." Rediscovering the real book made her think of all the greats who were underrepresented in its pages – Dorothy Ashby, John Coltrane, Clifford Brown – while also rekindling her fascination with Danny Boy, the English-Irish traditional her dad loved for reasons that seem both mysterious and simple: "People hang on to melody."
Ndegeocello's knack for recording other people's songs could be described in the same terms – mysterious, yet simple. Like queer predecessors from Little Richard to Ma Rainey to your friendly neighbourhood drag queen, she knows how to squeeze personal expression from other people's songs: "I use my imagination for arrangement," she says, "I have to try and take on another persona." She learned the art from her immersion in the funk-derived go-go scene during her adolescence, and because of playing in wedding bands with her dad. "You have to be the killingest cover band. And that's how I learned to play. I'm autodidactic. I would put on the Prince records and try to emulate the feeling and the sound."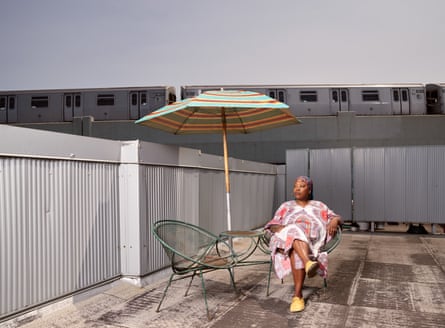 For The Omnichord Real Book, though, she decided not to compile another covers album, but instead to consider the canon of popular song while composing original work. "I wanted to kind of loosen the dogma I had musically; I wanted to just experiment with rhythm, harmony." The ascendant, ambitiously structured track The 5th Dimension was influenced by the pioneering 60s pop group of the same name, while Hole in the Bucket references a call-and-response American folk song that's been covered by national heroes from Pete Seeger to Harry Belafonte. Ndegeocello pulls heart-rending feeling from the humorous original, spinning it into a rousing spiritual. Still, she's guided more by feeling than genre. "Everything's a reference. I mean, there's nothing new under the sun. I'm not doing anything new. But I definitely am searching for a non-criteria."
Returning to songwriting for the first time in a long while – and in the tenacious throes of grief – Ndegeocello tried to "achieve beginner's mind again". Her collaborators, many of whom come from an avant-garde jazz milieu that she finds "soul-feeding, intellectually", were key to achieving this freshness. They comprise a who's who of mind-bending experimental talent: saxophonist Josh Johnson produces, contributing parts alongside Brandee Younger, Joel Ross, Ambrose Akinmusire, vocal trio the HawtPlates, and a couple of scene elders who helped drag jazz into its new age, Jeff Parker and Jason Moran.
Ndegeocello's embrace of experimental jazz is a logical next step for an artist who has always moved fluidly between genres and identities. She describes making music as "the rare moment in my psyche, in my heart and soul, that I feel raceless and genderless". She still gets pigeonholed, working in an industry that treats women as "a commodified, sexualised product", but makes that commodification work for her. "In the improvisational music world, we're a lot more open to gender shifts because we see it's marketable," she says – pragmatism left over from her youth when "survival" was her biggest concern, not her sexual orientation. "I've achieved financial stability so I make my life how I want it to be," she says, allowing her to focus on creativity: "What's important is not just to have a seat at the table, but that you're bringing a fantastic dish to the dinner."
She recounts a recent tour date at a festival in Tulsa, Oklahoma, an often homophobic state. "I couldn't help but be naturally myself, because it seemed like I was in an atmosphere of people wanting to escape the dogma." She yearns to discover alternative spaces for music as well as queer life, "a resurgence of the underground": The LGBTQ+ experience, says Ndegeocello, was never for the mainstream. "You can't share the light with everybody," she says, adding later, "When the light is bright, they commodify the light and change it and alter it in a way where I don't know if it's good for anybody. The most important thing for me in the community that saved my life is that I had nothing and nobody and they took me in."
Ndegeocello may not be a spokesperson, but she models a queer thinking that's realistic, frank and as protean as her songs. Perhaps most importantly, she does this in her songs. "A lot of the music is just things I wanted to tell myself. Just conversations with myself." Her internal dialogue reveals a person so many can recognise.
The Omnichord Real Book is out now on Blue Note
[ad_2]
Source link