[ad_1]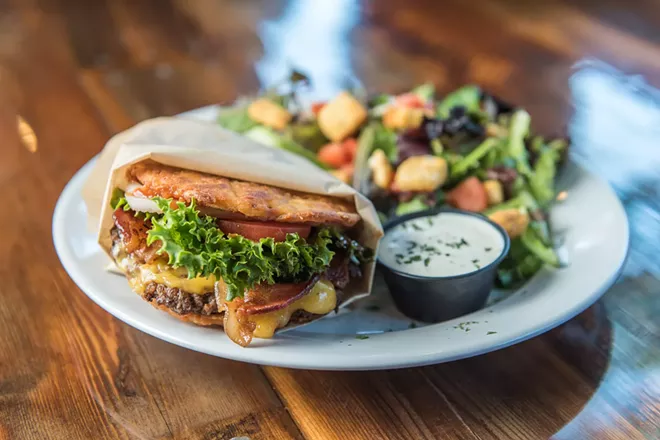 Tucked in the heart of downtown Spokane, the semi-basement level eatery Heritage Bar & Kitchen is celebrating its fifth birthday with a week's worth of festivities.
For fans of its juicy pub-style burgers, the biggest incentive to celebrate may be the chance to win free burgers for a year. Yes, really. Any customer who orders one of Heritage's burgers (including its smash burger between two hash brown "buns") from June 12 to 17 will automatically be entered into the drawing.
Other activities to celebrate the milestone — which, it should be noted, includes surviving the difficult COVID years — are happening throughout the week.
On Monday, June 12, Industry Night offers a 15 percent discount to fellow hospitality workers, plus a whiskey-tasting contest at 8:30 pm. On Tuesday, June 13, Heritage brings back its popular "Blind Book & Brew" event. Patrons can pick out a wrapped book with just a few hints written on the package about what's inside for just $12, and which includes a pint of local beer.
Among the rest of the week's festivities is a special themed "Legendary Trivia" night, plus live music and the unveiling of the restaurant's new vegetarian Nashville-style hot chicken sandwich.
"We are grateful for the community's support over the last five years, and we want to show our appreciation by offering a week of fun events and culinary specials," says co-owner Alex King.
Heritage Bar & Kitchen is located at 122 S. Monroe St. Find complete details at heritagebarandkitchen.com.
EXPANSIONS
Hey Tri-Cities and Walla Walla, this is your Wake Up Call!
In May, Spokane-based WAKE UP CALL COFFEE announced its expansion into 14 new locations southwest of town, increasing its footprint to 25 locations across Eastern Washington and North Idaho.
Wake Up Call took over locations previously owned by Black Rock Coffee Bar, which is no longer operating in the area. Each features Wake Up Call's typical full-service espresso bars with the same food and community atmosphere Spokanites have come to know. And for anyone traveling this summer, go ahead and use your existing loyalty points and gift cards at any new location.
Wake Up Call — easily spotted with its cherry red, English telephone booth-shaped structures — was founded almost 20 years ago, and has been voted one of the region's best coffee spots by Inlander readers in our annual Best Of poll. For more information on new locations, go to wuc.red/pages/tri-cities.
More good news: one of the region's first restaurants serving food inspired by traditional Native American dishes is expanding. After debuting in Spokane's Logan neighborhood (829 E. Boone Ave.) last summer, INDIGENOUS EATS is nearly ready to open its second location inside River Park Square's food court.
Owned by Jenny (Yakama, Northern Arapaho) and Andrew Slagle, the counter-service spot specializes in frybread topped with beans, grain, protein and veggies in combinations reminiscent of traditional Indigenous peoples' diets.
While Indigenous Eats' new outpost was initially slated to open in May, Slagle tells us an updated soft opening target is June 8. ♦


[ad_2]
Source link