[ad_1]
It's June, the sun is out and events are in full swing across Salem. This weekend, enjoy a plethora of performances, shop for comics and crystals and celebrate an iconic Salem landmark's birthday.
Here's a roundup of events this weekend, Friday, June 2, through Sunday June 4.
Carousel dedication
A Salem icon will get long-awaited recognition for her work bringing a carousel to Riverfront Park — and there's cake (pops) in it for you.
A ceremony Saturday, June 3 at noon honors Hazel Patton, who's now honored with signs at the newly-renamed Hazel Patton Riverfront Carousel. It's the attraction's 22nd birthday.
Rides will be $1 all day, the original price from the carousel's opening. The carousel lives at 101 Front St. N.E.
Stage, choir, art and dance
The Delphian School Theater Program, based in Sheridan Oregon, will lay the scene in fair Verona with a performance of Romeo and Juliet at the Elsinore Theater this Friday.
Doors open at 5:30 p.m. for a 6:30 p.m. showtime. Tickets range from $20-$30, and are available online. The Elsinore Theater is located at 170 High St. S.E.
This Friday, Confluence: Willamette Valley LGBT Chorus will perform a "Singing With Pride" concert at the First Congregational UCC Church, 700 Marion Street N.E. Since 2000, the group has met each Sunday to practice, and welcoming all who want to join, has grown to 50 singers.
The show starts at 7:30 p.m., and tickets are available online, $18 advance and $20 day of show, and free for children under 12.
The RiverCity Rock Star Royals will take the stage at the Gerry Frank | Salem Rotary Amphitheater from 8 – 10 p.m. for the city's First Friday Concert series.
The show is free, and part of the city's downtown art walk which features local artists all summer.
Saturday and Sunday, the Salem Philharmonia Orchestra will present "Romantic Impressionists," a concert featuring romantic period composers including Pyotr Tchaikovsky and Claude Debussy.
Saturday's show will be at 7 p.m., and Sunday's will be at 3 p.m. The performance will be at the East Salem Community Center, 1850 45th Ave. N.E.
Admission is $20 for adults, $18 for students and free for children under 17.
On Sunday, Tippy Toe Dance Studio will perform "The Road Less Traveled," an original production inspired by the Robert Frost poem, at the Elsinore.
The Salem studio will explore themes of choice and free will. Dancers in fuchsia and lime costumes will represent two different paths after balance in the community is broken.
Tickets range from $22-$25, and are available on the Elsinore website. 
This weekend is the last chance to walk through local artist Susan Napack's memories. The Salem Art Association exhibition, "Memory Project Part 2: SHREDS," features artifacts from her life, including home movies from her first wedding, collages and a quilt of letters from "a prolific but short-lived boy friend."
The immersive exhibit ends June 4, and is in the Art Association's Bush Barn at 600 Mission St. S.E.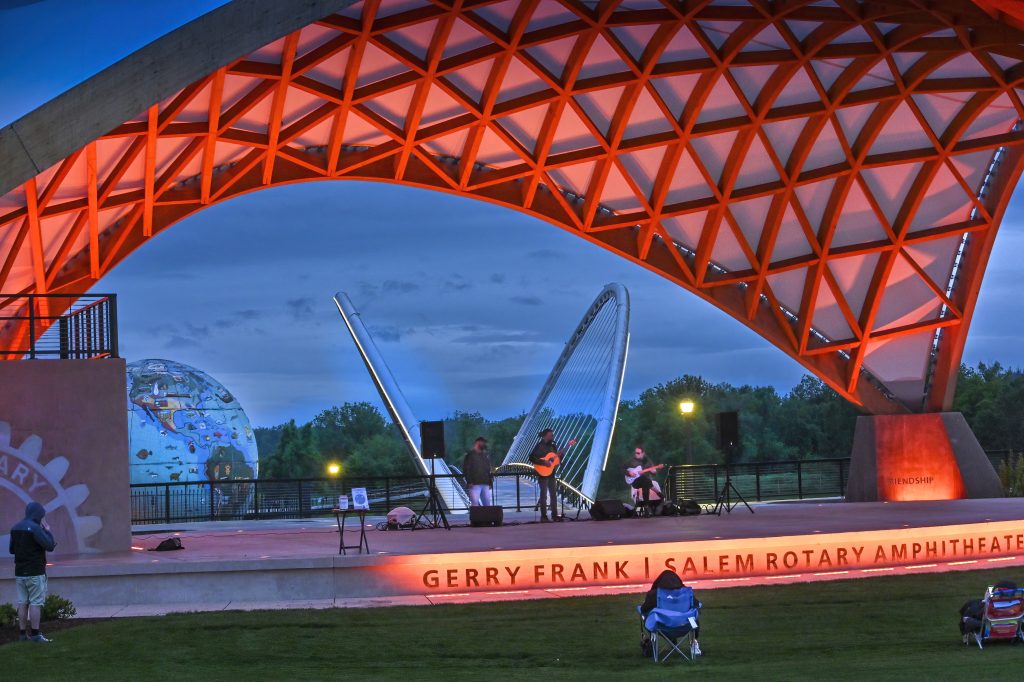 Comedy shows
Salem's Infinity Room, 210 Liberty St. S.E. #150, is hosting several comedy shows this weekend.
Electric Baguette Improv Comedy, which comes to the Infinity Room every other Friday, will perform at 7 p.m. Tickets are $10.
Jamal Coleman, featuring Mandy Simonson, will perform standup afterward, starting at 9:30 p.m. Friday. Tickets are $15.
"Sexy Talk," a stand up comedy set about sex, love and relationships will take anonymous questions from the audience before its show on Saturday.
There will be two shows, both hosted by Salemites Curtis Everetts and Tony Meyer. The early show is 18+ with doors at 6 p.m., with a 21+ later show with doors at 9 p.m. Tickets are $15 advance, $20 at the door.
For more information and for tickets, visit the Infinity Room website.
Sports
Expect an action-packed roller derby bout this Saturday as Salem's Cherry City Renegades take on Crow City Roller Derby, from Washington County.
Doors open at 6 p.m., and the bout starts at 7 p.m.
Tickets are $12 if purchased before 4:30 p.m. on Saturday, and are $15 at the door. Family passes of two tickets and all kids under 13 are $30, and kids under 5 get in free.
The competition will be at 1335 Madison Street N.E. For tickets, see the team's website.
The Salem Capitals basketball team will battle the Seattle Superhawks on Sunday at 3 p.m., in a playoff game for The Basketball League.
The game will be at the Salem Armory, 2310 17th St. N.E. Tickets are available online, and start at $6.
Shop for local goods
On June 3, West Salem's first Artisan Market will host local artists in the At the Corner Art Gallery & Boutique at 1105 Edgewater St. N.W.
The market features artists from marginalized communities, and will be from 11 a.m. – 5 p.m.
Shop local goods at Salem's Underground Market, hosted in the basement of Blast Off Vintage, 860 High St. N.E. The vendors will be there from 3 – 7 p.m. on Saturday.
Pop-culture and comic book inspired art and activities are coming to the Oregon State Fairgrounds on Saturday from 10 a.m. – 6 and Sunday, until 5 p.m.
The Mid Valley Comic Art Expo features over 100 exhibitors who will share their art, and special guests include writers and artists who have worked for well known comics publishers like Marvel, DC and Dark Horse.
The event will have family-friendly activities and interactive panels. A cosplay contest starts at 6 p.m. Saturday.
The event will be at the Oregon State Fairgrounds Columbia Hall, 2330 17th St. N.E. Tickets are $20 Saturday and $15 Sunday at the door. 
Get a tarot reading or shop for creepy plushies and dark decor at the Market for the Strange: Dark Rainbows market on Sunday from 11 a.m. – 6 p.m..
It's the largest gathering for the market yet, with 70 area vendors. The market will be on the third floor in the Reed Opera House's Ballroom at 189 Liberty St. N.E., and shoppers must be over 18 to enter, or 16 with a guardian.
All ages are welcome at an outdoor market in the nearby parking lot. Admission is free. 
Contact reporter Abbey McDonald: [email protected] or 503-704-0355.
SUBSCRIBE TO GET SALEM NEWS – We report on your community with care and depth, fairness and accuracy. Get local news that matters to you. Subscribe today to get our daily newsletters and more. Click I want to subscribe!
Abbey McDonald joined the Salem Reporter in 2022. She previously worked as the business reporter at The Astorian, where she covered labor issues, health care and social services. A University of Oregon grad, she has also reported for the Malheur Enterprise, The News-Review and Willamette Week.
[ad_2]
Source link