[ad_1]
Blues singer Dylan Triplett's world just shifted.
The Cahokia native took home the trophy for best emerging artist album at the Blues Music Association's 44th Annual Blues Music Awards, held in May in Memphis, Tennessee.
He was honored for his 2022 debut album, "Who Is He?," which was recorded over three days at Blue Lotus Studio in St. Louis. It was his first time recording in a studio.
The album was accompanied by a release concert at BB's Jazz, Blues & Soups, where Triplett returns June 2 to celebrate his win. He also has a sold-out show June 1 at Joe's Cafe & Art Gallery and a slot at the Confluence Festival June 3-4 at World Wide Technology Raceway in Madison.
"I cannot lie to you: It does feel different, and it feels good," says Triplett, who moved last year to Nashville. "I feel like I'm ready for more in the long term. I'm ready for a lot more to happen — ready for the shift to happen.
"I'm ready for it all to start. This is just the beginning."
While recording "Who Is He?," Triplett says, he had no idea he had an award-winning album on his hands.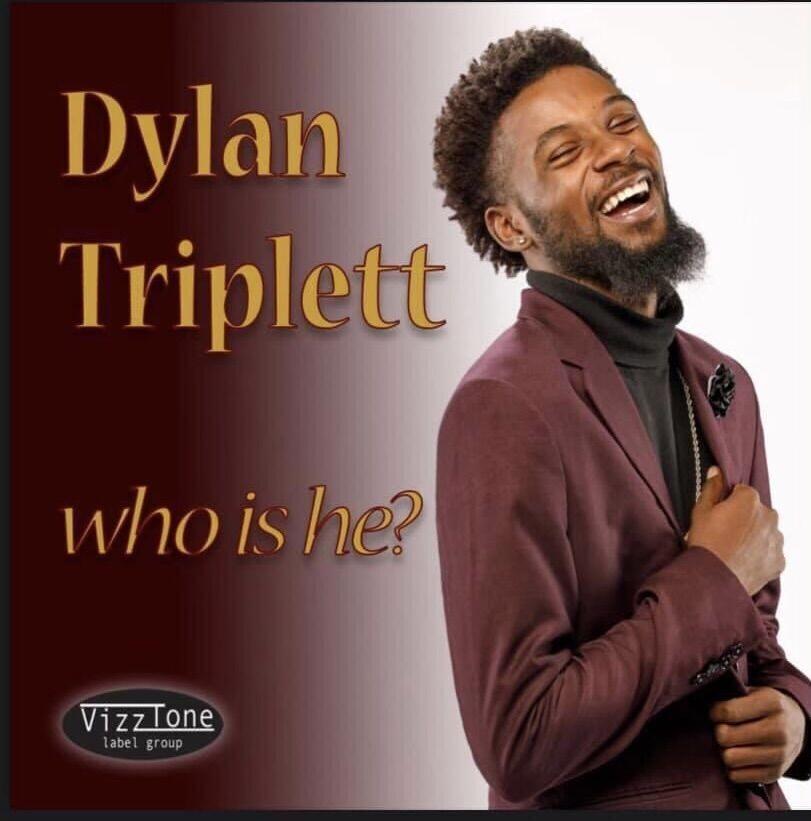 "I thought it would have a chance at something but not an award-winning chance," he says. "It never really crossed my mind."
Once the nominations were revealed, his hopes of winning weren't high.
In the past, competitive situations didn't land in his favor, such as when he competed a few years ago in the Blues Music Association's Independent Blues Challenge.
"My soul was at peace with whatever happened because I was going to win regardless (in the long run) because I had the determination to keep pushing to get to the end," he says.
Triplett says he didn't really know his competition in his category: Yates McKendree, DaShawn Hickman, Jose Ramirez and Blue Moon Marquis.
"I figured, 'I don't know you, but if you're in the category with me, you've got to be worth something,'" he says. "'You've got to have some kind of heat, and may the best man win.'"
Triplett had heard buzz that he could win, but he knew better than to get his hopes up.
In 2022, before the album release, he went to the awards to put his name out there, performing at showcases, handing out business cards, shaking hands and "kissing ass," he says. "There's a lot of that."
This year, he not only attended as a nominee but as a performer with band members Bernard Terry (bass), Nick Savage (drums) and Ryan Marquez (organ and keyboards), all of St. Louis, along with Sean McDonald (bass) and Stephen Hull (lead guitar).
He says he was the only newcomer nominee with a performance slot. The group performed a 10-minute medley of songs from "Who Is He?" that included "Barnyard Blues," "Junkyard Dog" and "I'll Be There Waiting."
"It went great," Triplett says. "Everybody loved it so much. Everyone came up to see me afterward. They were so happy to see a young brother up there onstage doing what our ancestors were doing. That's very empowering for a lot of people."
His nervousness peaked as his category was announced by presenters Mathias Lattin and Frank Robinson. His band members crowded around him, spreading good vibes. He faced away from the stage in an attempt to calm himself.
The presenters joked that "the playa hater award goes to" before announcing Triplett.
"I turned around after I heard them call my name," he says. "'Oh, (crap), that's me. This is happening.' Everyone was jumping on me like I won a soccer game. My band was losing their damn mind."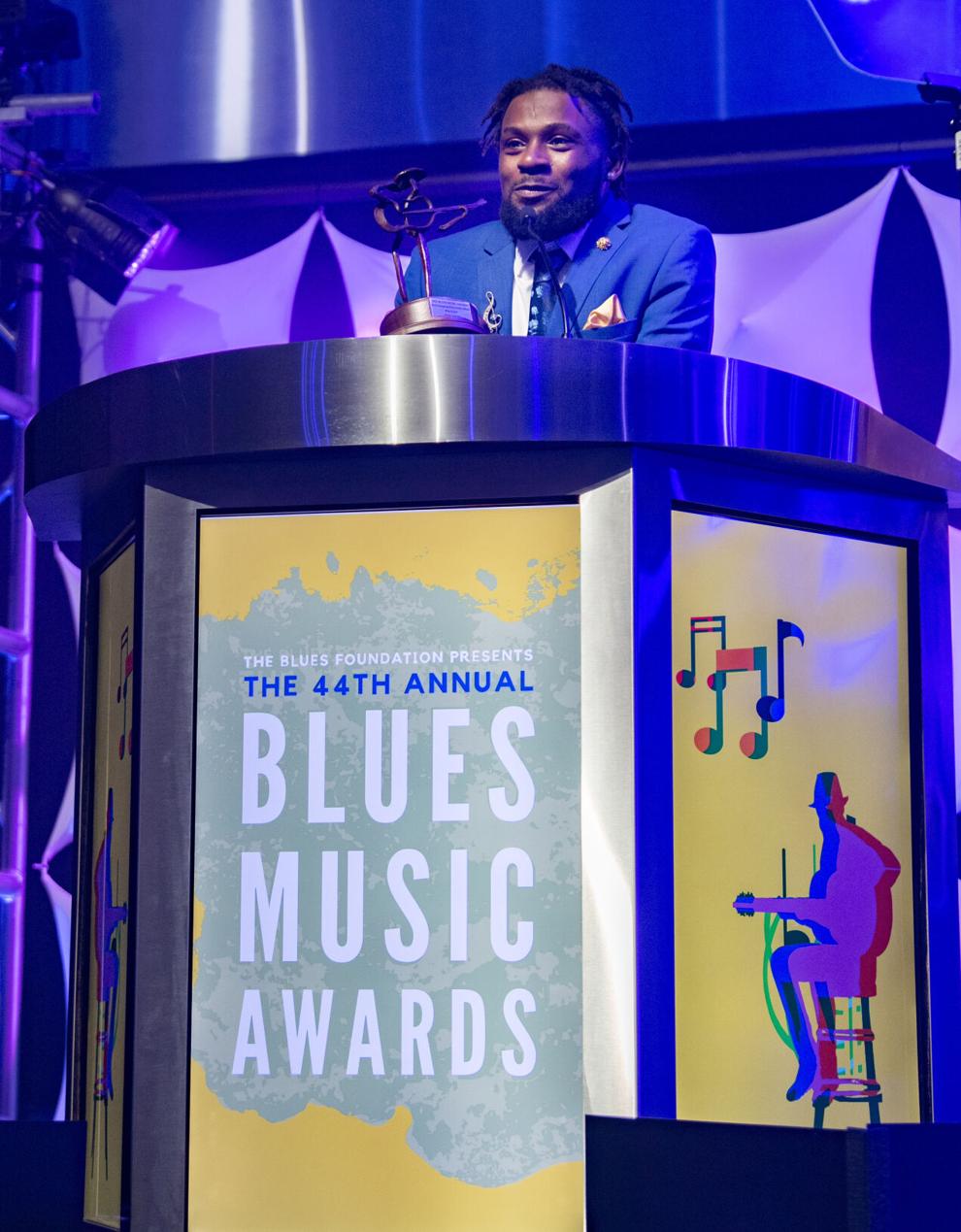 He said he didn't start processing the win until he heard one of his songs being played.
"They waited for me to walk up there," he says. "I started crying. I was thinking about the hard work I've been putting in since I was 17 years old and all the 'nos' I've gotten doing music.
"This was the yes I've been waiting on, and I started breaking down. I'd been struggling with trying to get this yes — get this moment."
Once Triplett leaned into the microphone to give his acceptance speech, what he had prepared went out the window. All he could muster were more tears.
"I thought I would go up there and be all put together, but I was a mess," he says. "I could not focus on the speech. I just took it all in and took as many breaths as I needed."
He eventually thanked God, his parents, the Blues Music Foundation and those who voted for him, his manager and his team, and Montez Coleman and Mike Finnigan, two musicians on the album who have since died. He only got to thank a third of the people he wanted to.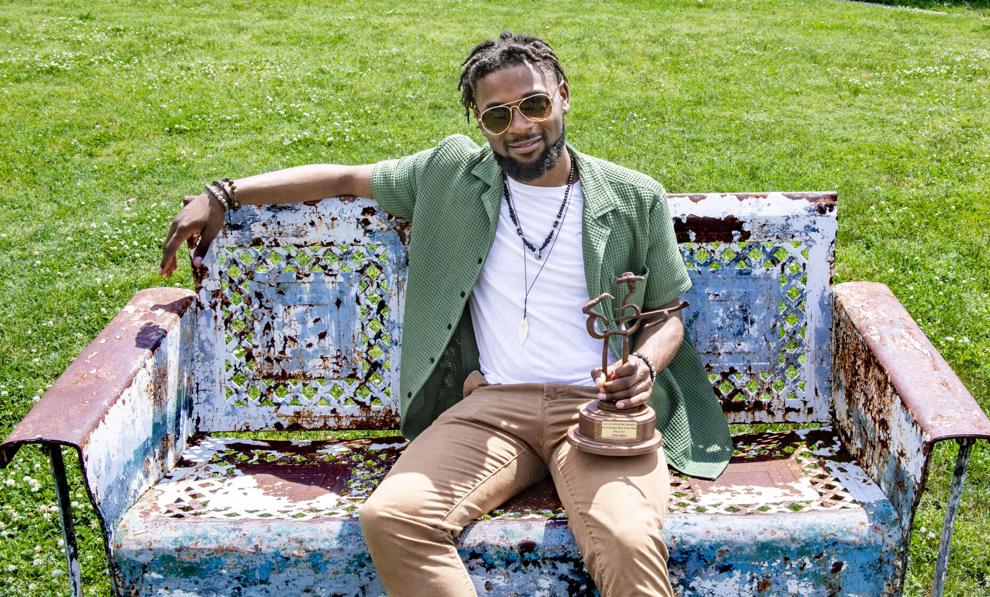 "There was so much happening, and I was so flustered and took a lot of breaks," Triplett says. "I just wanted to get down and cry in peace."
Triplett has started work on a follow-up to "Who Is He?" He says he forgot in the moment to tease the song in his speech.
The song will be featured on the album and represents a "taste of what the album will bring and what the future of me looks like," he says. "The passion behind the song is strong, and everyone can relate. I want to connect more with people and for them to see my vulnerable side a bit more."
What Dylan Triplett • When 8 p.m. June 1 • Where Joe's Cafe & Art Gallery, 6014 Kingsbury Avenue • How much Sold out • More info eventbrite.com
What Dylan Triplett• When 7 p.m. June 2 • Where BB's Jazz, Blues & Soups, 700 South Broadway • How much $25 • More info eventbrite.com
[ad_2]
Source link