[ad_1]
What is your definition of "live music"?
A local band at a bar? Big name bands on a national tour? Niche musicians at a performing arts center? Great music under the stars? Or something all-together different?
Whatever your answer, chances are you can find it in Grand Island.
From bands on Saturday night at the Glass Bar or the Elks Club to superstar musicians at the Nebraska State Fair, with just about everything in between, the local music scene has come a long way in the past 10 years or so.
L.J. McCormick, executive director at College Park since 2015 (and its facilities director for four years before that), said, "When I first got to Grand Island, it seemed as if it didn't have the advantages that surrounding communities have. I've been a professional musician most of my life, and when looking around Grand Island, it always seemed to need 'more.'"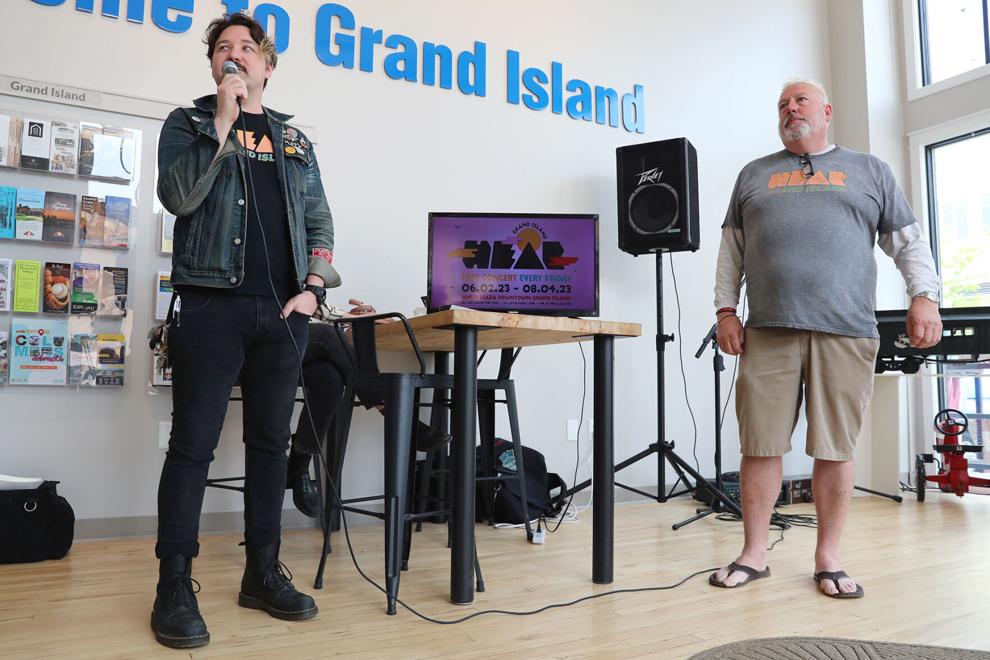 Today, part of that "more" McCormick envisioned is the Grand Island Music Series, now midway through its inaugural season with concerts at College Park and Stuhr Museum. And it's turning out to be "more" than he had hoped.
"I would say it's better than we anticipated," he said. "The expectations weren't the greatest. We came in with no sponsors, no advertisers, no contributors. Now that people know who we are, they are investing in us. Attendance has been pretty good — better than anticipated. It keeps getting better with every performance."
Also part of that "more," is Hear Grand Island, a summer concert series that runs from June to August in Railside. It got its start in 2016, and 2023 will be the series' seventh season as the 2020 season — just like everything that year — was canceled due to the pandemic.
Local businessman Brent Lindner was among the organizers for that first event in 2016 and is still a driving force behind the series. He said about 10,000 people attended nine concerts that first summer, and it has grown every year since. Average weekly attendance the past couple of years has been between 2,000 and 3,000, with some performances topping 4,000.
"The original premise of Hear Nebraska was to support Nebraska bands and artists," Lindner said, "and we try to stick to that, but now we look at bands from everywhere because our goal is bringing quality music to Grand Island."
"More" could also include the various artists brought in to perform at the Nebraska State Fair, which moved to Grand Island in 2010. Past fairs have featured country legends Mel Tillis, Willie Nelson, Crystal Gayle and the Charlie Daniels Band; country stars Keith Urban, Brad Paisley and Martina McBride; classic rock bands Lynyrd Skynyrd, Cheap Trick, Chicago and Styx; Christian groups Lifehouse, MercyMe and the Newsboys; along with contemporary rock band Train, and the Grammy Award-winning a cappella group Pentatonix.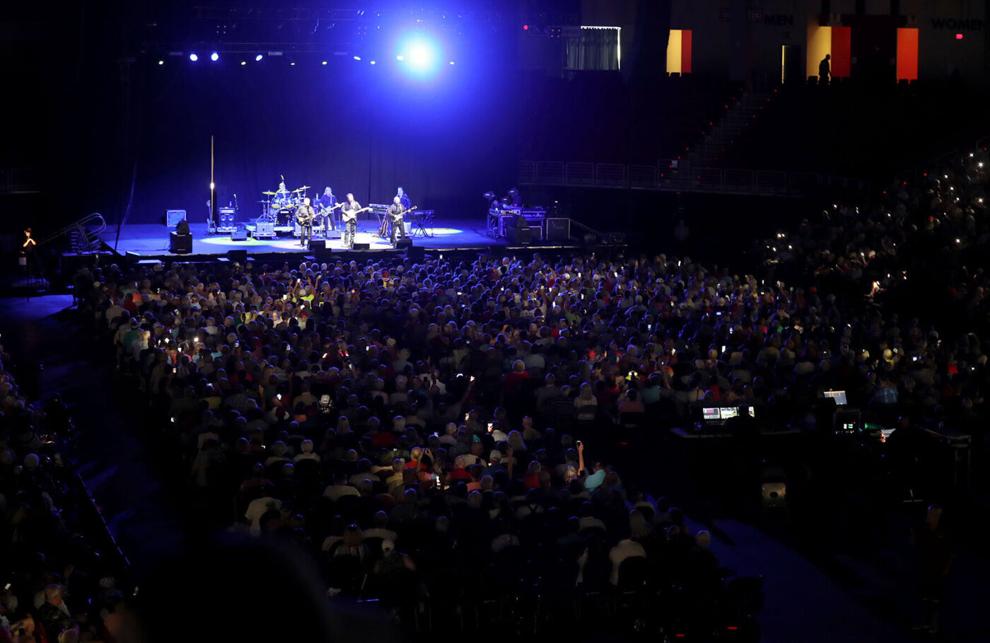 And the venue for most of those State Fair concerts — the Heartland Events Center, which opened in 2006 — plays host to many touring acts throughout the year, such as the Tracy Lawrence and Clay Walker concert earlier this month. The addition of that facility to the community, with a seating capacity of 6,000 to 7,500, made it possible to bring those big-name groups to town.
Cindy Johnson, president of the Grand Island Chamber of Commerce, said the city "started to look itself light" after the events center was built.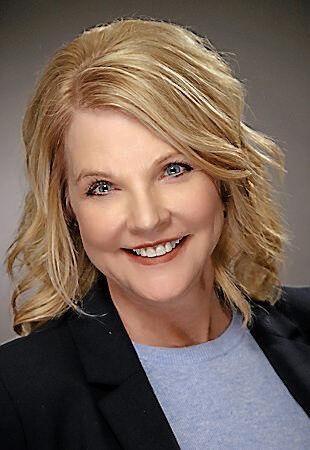 "It went from wishing what 'could be' to realizing what actually was possible" with the new facility, she said.
And what was possible was not only music concerts, but also kids' shows like "Blippi" and comedy shows like "I Mom So Hard." Shows that people don't have to travel to Lincoln or Omaha to see.
"My pregnant daughter and I went to Omaha to see them," Johnson said, referring to "I Mom So Hard." "And then we had them right here in Grand Island. And I took my grandkids to see 'Blippi' (at HEC), and they had a ball. All the options that are available for all ages, the diversification, is wonderful. It's great to always be adding something new.
"When I take my kids and grandkids to events, it's interesting to see a whole different set of people there, depending on the event. With 'Blippi' it was moms and dads — and a few grandparents — there with their kids. Older Nebraskans Day (part of the Nebraska State Fair) is aimed at a whole different segment of the population."
In addition to the variety of programs, there is another benefit, Johnson said, and that is "increased activity on the (Fonner Park) campus directly impacts the city with more people coming to town."
There's that term "more" again.
But "more" had to have a foundation on which to build. And that foundation has to include the Grand Island Concert Association, which has been part of the community for more than 90 years.
Organized as the Grand Island Community Concert Association in 1931, it became the Grand Island Concert Association in 1988. The association hosts five or six concerts every season at Grand Island Senior High. Those concerts may include symphonic and chamber music, instrumental and vocal soloists, choirs, opera, ballet, folk dance and jazz.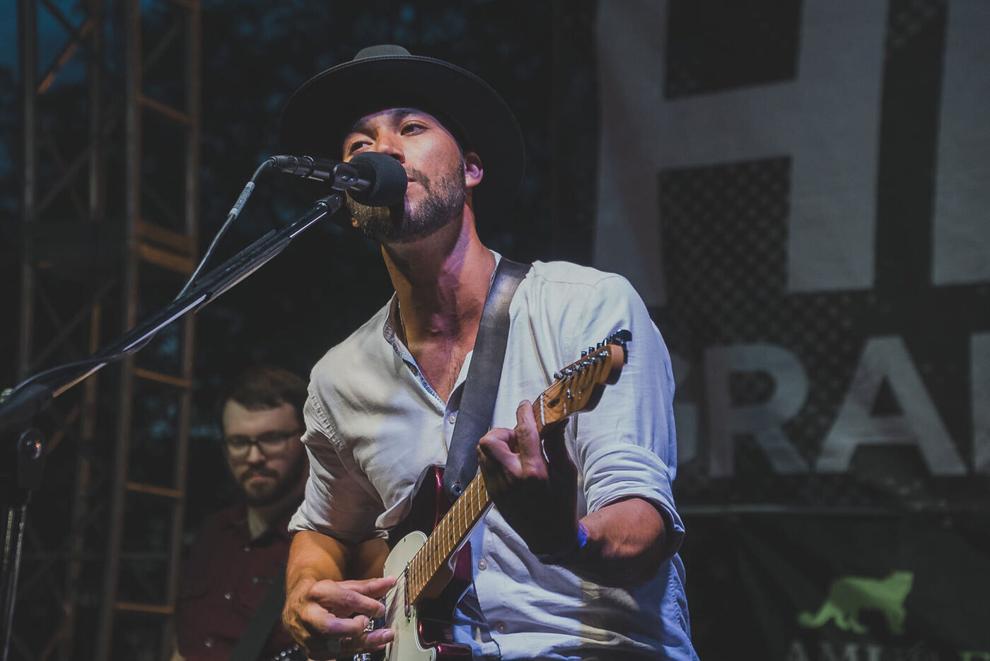 And on any given weekend, you can find bands playing at local clubs, including the Elks Lodge on South Locust (which will host Iron Zephyr, a regional band playing '90s rock, pop and grunge music on April 22); the Liederkranz on West First Street (site of a performance from Sleep Signals, a rock band from Oregon, in early March); and numerous other clubs, bars and lounges around the city.
Let's take a closer look at these series and organizations.
Hear Grand Island
Hear Grand Island got its start in 2016 under the Hear Nebraska umbrella, which had produced similar summer concert series in Lincoln and Omaha. Featuring 20 bands — all from Nebraska — 10 of them included at least one member with Grand Island ties.
"It was important to us that each of the 10 concerts featured musical talent that grew from the Grand Island community," Andrew Norman, executive director of Hear Nebraska, said at the time. "It was also very easy to find — the Grand Island area has produced so many excellent musicians."
Those 10 concerts (free, by the way), were scheduled over consecutive Friday nights at Railside Plaza.
Local business owners Sharena Anson, who owned the Chocolate Bar at the time, and Brent Lindner, who owns several restaurants including Sin City and Wave Pizza, helped make Hear Grand Island possible that first year. Also involved right from the start was T.J., Roe, who now serves as managing director and is the one in charge of booking the bands.
Roe grew up in Grand Island, went to college in Lincoln, moved to Hollywood and then came back to Nebraska in 2016 — just in time for Hear Grand Island's debut. Music has literally been part of his life since day one.
"I grew up with musical parents," he said. "They played all over the Midwest and up into Canada, and I traveled with them. And I became part of the crew as soon as I got big enough to help carry instruments.
"It's literally all I've known."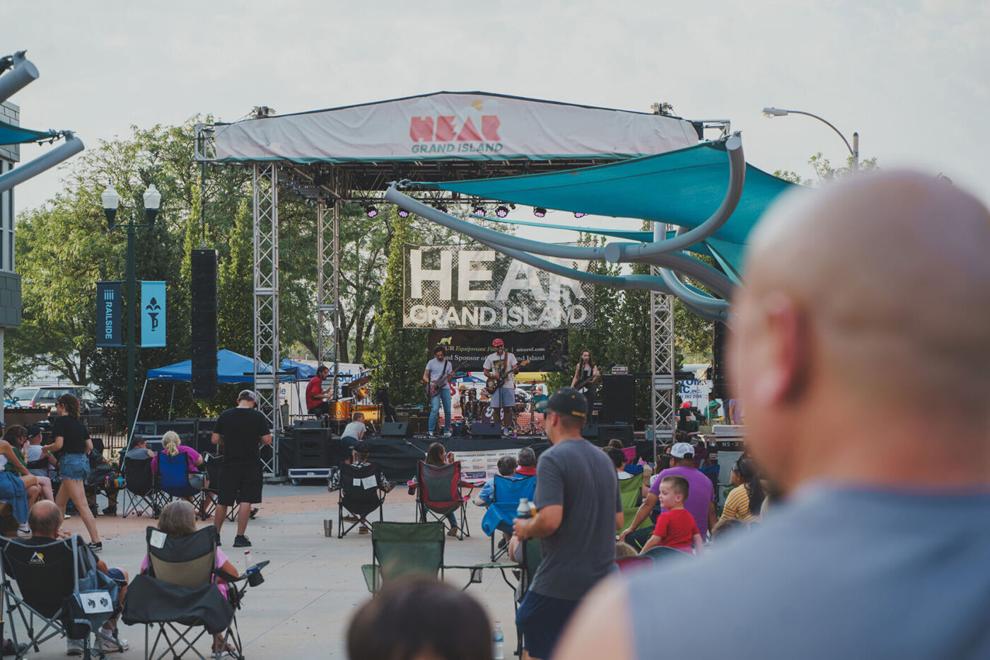 Over the years, Roe has been in charge of music festivals, served as a tour manager for various bands, owned a sound system company and more. It was during his time in California that he discovered "I wasn't really needed in L.A. There are people with my skills everywhere. But I have skills I could use in Nebraska. Brought those skills back home where I could help get music to Grand Island."
Roe is friends with the folks who started Hear Nebraska, and he knew Brent from his previous time in Grand Island and ended up helping with Hear G.I. "a bit" in its first year.
"Brent and Sharena were doing everything themselves, and I got more involved in the second year. I helped with the booking," a job he eventually took over. Roe, who lives in Lincoln, uses his connections to the business to help attract bands from all over the country, especially since Hear Grand Island moved out from under the Hear Nebraska umbrella and became its own entity in 2018.
While the format of Hear Grand Island is pretty much the same, each concert the first year included two bands and a DJ. Now, most nights feature three bands and a DJ. And it's Roe's job to pick those bands and put the lineup together.
"Cover bands are great, but they are everywhere," he said. "And unless you provide something for younger folks that they can claim as their own, they are going to split. That's one of the reasons we want to get younger people involved."
Booking bands can be a bit of a challenge.
"We want to give people what they want, but you don't know what you don't know," he said. "They need to be exposed to new things. It fueled my spirit as a teenager to listen to new music."
Community events need new acts, fresh stuff, he said.
"And if people come out, that allows us to build on that and continue to bring in new bands, new acts," he said. "Participation will get you more of the same. If people make the effort to leave their house, we want to give them more and more."
Roe is on the constant lookout for new music. As one of the few sound engineers at the Zoo Bar in Lincoln, he gets to see live music five nights a week. "I get to see the good stuff," he said. "Discovery music festivals, DIY shows at cultural center, basements, garages … music is everywhere."
Applications are coming in now for the summer series, and Roe said the 2023 Hear Grand Island lineup will be announced soon. The first concert is June 2, and the final concert is scheduled for Aug. 4.
"Bands hit us up all year long," Roe said, "and we can get up to 100 bands that apply for spots. We have about 25-30 spots, and we are looking for bands, not solo artists."
A few of those spots are already filled.
"I can tell you that Rascal Martinez will be back, as will the season-ending AM/FM 'totally '80s dance party,'" Roe said. "The season will most likely include the third 'Bridge' concert, which celebrates the city's diversity and aims to 'bridge' the communities on Third and Fourth streets in downtown G.I.
"Rascal is a good friend, such a great performer. He can entertain any audience. His is one of the biggest shows."
Roe and Lindner are both optimistic about the future of Hear Grand Island.
"It's super watching it grow," Lindner said. "It's a lot of work, but it's worth it."
Part of that future includes an expanded space in Railside, which will be renamed Amur Plaza. The project includes extensive landscaping with grass, trees and a berm-like stage. The project also includes two public restrooms, which will be ADA compliant and family friendly, and it will be built this spring.
The project is on track to be completed by the time Hear Grand Island starts in June.
Grand Island Concert Association
The Grand Island Concert Association is a nonprofit organization dedicated to bringing a variety of musical artists to central Nebraska. The association "enriches lives, fosters growth and advances musical appreciation through ongoing education and outstanding live performances," according to a mission statement posted on its website.
And at a cost of $65 for a season membership, that's a "heck of a deal," said Marvin Anderson, a retired attorney who is president of the group.
There is one performance left in the 2022-23 season, the Copper Street Brass on April 30, and any season membership purchased before that concert includes that performance as well as the entire 2023-24 season.
And Anderson doesn't hesitate to compare what the association has to offer to performances in Lincoln or Omaha — at a fraction of the price.
"They are pretty damn close to Lied quality," he said, referring to the Lied Center for Performing Arts in Lincoln, where single performance tickets can cost up to $150 or more.
The 2022-23 season, for example, included an a cappella group, a classical pianist and a vocalist performing Broadway hits. The 2023-24 season will feature songs from films and Broadway, a saxophone quartet, and a trio featuring a pianist, cellist and vocalist. All performances will be at Grand Island Senior High.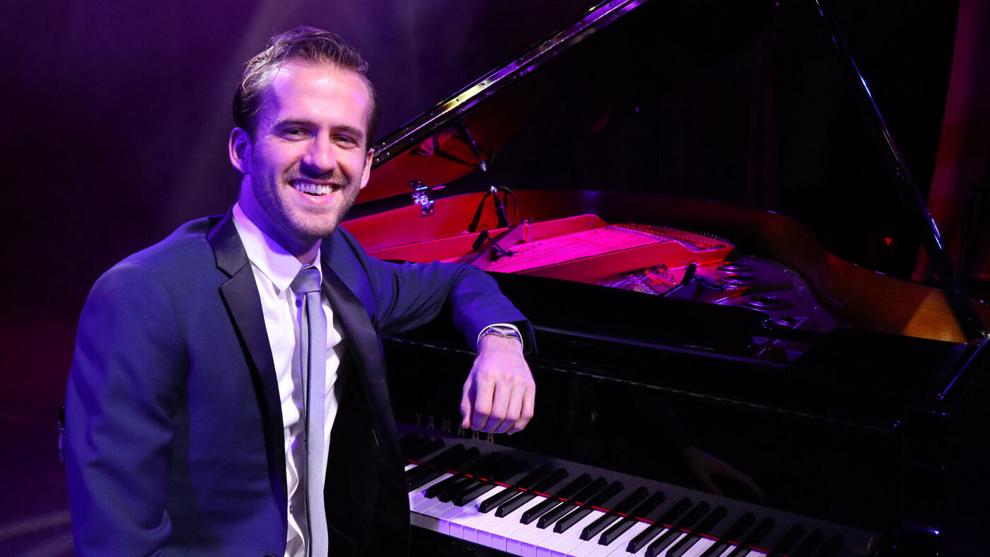 The association books its performances through Allied Concert Services, a booking agent out of Minneapolis. Scheduling the 2023-24 season started last August, Anderson said, "when Allied provided us with at least 20 groups to pick from. The executive committee pared that down, considering how similar these groups are compared to other groups, both previous and from the current list, variety within the season, cost and the appeal to Grand Island audiences.
"Sticking to our mission, we want to offer something for everyone."
While the majority of concerts are booked through Allied, the 2023-24 season will open with a twist: The Hastings Symphony Orchestra is set to perform on Sept. 9. And the second half of the season will feature Billy McGuigan's Pop/Rock Orchestra from Omaha. A familiar name in this part of the country, McGuigan is a growing presence on the national music scene.
"We really want to reach students," Anderson said. "Part of our mission is to promote the arts among students. Student memberships are free."
To help extend that mission, in the past GICA has sponsored workshops where visiting artists will go into local schools and work with students. Anderson said they hope to be able to bring that back; it's just a matter of working with the schools to coordinate their schedules.
Anderson said he also feels it's important to promote arts within the community.
"I've gone to Chamber meetings. I've gone to Grow Grand Island meetings," he said. "Music is important to the growth of Grand Island, to bring in young professionals and keep them here. A city needs a vibrant arts scene, and these groups need to know we are here and help promote our programs."
GICA is always working to recruit new members and, like many others, is looking for younger members.
"There are so many things to choose from to do in your free time," Anderson acknowledged. "When the association started, we were probably the only game in town. But I still believe we have a lot to offer, and season memberships are a great value."
Grand Island Music Series
In the midst of its inaugural season, the Grand Island Music Series "is exceeding all expectations," said L.J. McCormick, the executive director of College Park and president of the music series. "Attendance is growing with every performance."
The Grand Island Music Series is a fully incorporated nonprofit within Grand Island's College Park and is being done in partnership with Stuhr Museum of the Prairie Pioneer.
The program features a concert every month throughout the year: four free outdoor concerts at Stuhr as well as eight indoor concerts at College Park that have an admission charge for adults.
With a goal of providing a series of monthly concerts for our community and surrounding cities, the Grand Island Music Series presents a great variety of musical performances in a number of diverse styles. This includes folk music, bluegrass, jazz, Latin American music, country, pop and classical. The Grand Island Music Series recognizes the diversity in our community and wants to be as inclusive as possible in providing music for the greater Hall County area and beyond.
"I love the Grand Island Concert Association and Hear Grand Island," McCormick said, "but we're trying to complement what they offer, not compete with them. They have their own niche."
The idea for the program started more than 10 years ago.
"There had been a music series at College Park years prior, back in the early 2000s," he said. "It was called 'Art at the Park,' and it brought in some world-class talent. But it wasn't a success, and the (College Park) board was not happy. So I knew going forward, we needed a solid business plan. I've always thought of College Park as a civic center for Grand Island. I sought to resurrect that as part of College Park's mission to provide more arts and humanities for the community."
To get the ball rolling, McCormick turned to a couple of friends, Jennifer Worthington of Grand Island, who "helped me with a bunch of ideas," and Dean Haist, president of Arts Incorporated in Lincoln. Arts Incorporated specializes in arts management and promoting the arts and manages several groups including the Nebraska Brass, the Capital Jazz Society, the Nebraska Jazz Orchestra and several others.
"He knows how to get things done," McCormick said of Haist, who now serves as the series' executive director. "We also have a board of directors who are big supporters of the arts in Grand Island. These people are all important parts of wheel."
Getting that business plan put together was the first step. It took about a year to get the details worked out before unveiling the first season lineup.
"There are ways to make these things work until you can get yourself on your feet," McCormick said. "The Nebraska Arts Council has a touring program we utilize; we can hire these groups and apply for grants to help cover the costs. All of it is a process, and we've been able to figure it out. Our talent has been top notch. It's been amazing. Took us over a year to develop and to get started.
"The funds are out there; you just have to go get them."
The first season lineup was designed to serve the diverse community in Grand Island.
"We always knew we wanted to start with the mariachi band at Stuhr in observance of Hispanic Heritage Month," McCormick said. "And more than 300 attended that first free show."
There are two more performances at College Park before the concert returns to Stuhr for the summer months. The first concert at Stuhr will feature Brad Colerick, a folk musician who has ties to the Stuhr family.
Both of the remaining concerts at College Park are aimed at families with kids, as well as wider audiences: The Toasted Ponies on April 25 and the String Beans on May 18.
"The Toasted Ponies will present an 'educational' type concert," he said, "explaining how and why they are doing what they are doing."
And the String Beans have been entertaining kids for almost 20 years; that show at College Park will be free for everyone.
Work has already started on the second season, and McCormick said the plan is to kick it off with a performance observing Hispanic Heritage Month, just like the first season.
"We don't want to be just a concert promoter, but want to be part of the community," he said. "We want to provide a valuable resource for the people of Grand Island, what we can offer the people to add to their lives. It's a long road, but a worthwhile one.
"And we have fun. We're able to do something that's great, and people really like it. And that's the bottom line."
The local bar scene
When it comes to the local bar scene, Brent Lindner has a front-row seat. In addition to owning several restaurants, he also owns the Glass Bar on North Front Street, which hosts Hear Grand Island afterparties along with the occasional weekend show. One of its most recent offerings was comedian Dan Alten.
"I want to entertain and take care of people," Lindner said of his food and beverage businesses, "whether that's through music, comedy, food, whatever."
Lindner said the Glass Bar "backed off a bit" from live music during COVID, but "we are getting back to it."
T.J. Roe also helps book acts at the bar, Lindner said. It boils down to who you know, and he has those connections.
"It (the music scene) is a close-knit circle," Lindner said. And it helps that "we have good street cred. We take care of the bands. We make sure they are fed and watered and have enough gas money to get down the road. If you don't treat bands well, word gets out."
Many of the bands that come to town are on a tour that brings them through the area and have heard this is a good place to play.
Bands, both at Hear Grand Island and the local bars, are encouraged to bring merchandise with them when they perform. "Fans are passionate, and they love T-shirts and that kind of stuff," he said. And unlike a lot of venues, none of Lindner's venues or Hear Grand Island keep a percentage of merch sales. All the profits stay with the band.
One thing Lindner has discovered over his years in the business is that "musicians are approachable" and that bands, whether playing in front of a couple thousand people at a music festival or 30 people at a bar, are there "because they just want to play."
"Even bands from larger markets that find themselves playing in front of a crowd of 2,000 or 3,000 people have never experienced that before," Lindner said. "Even if they are from places like Chicago, most likely they've been playing in clubs that seat a couple hundred at most."
Both Lindner and Roe have a wish list that includes a venue that could be used year-round for all-ages shows.
Roe was "running punk shows out of a garage at Fourth and Elm streets," while he was still in high school. Bands would play at local bowling alleys, anywhere they could find a place to set up. He wants that for the teens who live in Grand Island today.
"Plenty of bars have live music," Roe said, "but there is no place for teens to go to listen to new music. That's what I'd like to do. We have all these ideas of things we want to do but need a place to do them all year long."
And Lindner knows what impact that can have on kids.
"I've talked to local music shops, and they tell me that they see increased sales of musical instruments after kids have been to Hear G.I. shows. And we had a DJ school before one of the shows that kids really got excited about."
If Lindner, Roe, Anderson, McCormick and others involved in the local music scene have their way, the future will be a bright one. Let music fill the air!
[ad_2]
Source link