[ad_1]
It's a new working week in the music industry – and it's already provided a flurry of fresh headlines over AI's impact on the business of superstars.
Over the past few days, three Universal Music Group-affiliated megastars – Drake, The Weeknd, and Rihanna – have seen their vocals replicated by AI tools, and then 'performed' within viral music productions.
The tune that's drawn the most attention,  understandably, is a cover version of Ice Spice's risqué 2022 hit Munch (Feelin' U), on which the vocals are 'performed' by an AI copycat of Drake's voice.
It's currently being posted and reposted across social media sites including Twitter and TikTok. Drake himself took to Instagram over the weekend to label it "the final straw".
The voice of another UMG-signed superstar, Rihanna, has also been ripped off in a separate viral social media snippet, on which an AI replication of her voice can be heard 'singing' the Beyoncé hit, Cuff It.
(The robotic results, for at least some of the clip, edge frighteningly close to being uncanny.)
Yet the AI-replicated vocal that's set to cause the noisest music industry fallout is an original composition, heart on my sleeve, created by an 'artist' named ghostwriter – featuring AI vocals in the style of Drake duetting with The Weeknd.
Why is heart on my sleeve bound to ignite intra-industry music biz tensions this week?
Because audio and video files of the full 2-minute-14-second track have been successfully distributed to multiple music streaming services, including Spotify, YouTube / YouTube Music, and Apple Music.
On Spotify, at the time of writing, the track has over 250,000 plays. On YouTube, the video (uploaded by ghostwriter) has over 150,000 plays.
The top comment under said YouTube video, posted by ghostwriter themselves: "this is just the beginning".
The company responsible for the distribution of heart on my sleeve is currently unknown.
One credible sleuth, AppSumo's Mitchell Cohen, suggests that the track could potentially have been created and/or promoted for viral marketing purposes by a CRM startup called Laylo, which works with music artists.
[A Laylo spokesperson has denied to MBW that the company is behind the track.]
---
---
According to a Financial Times report, Universal Music Group recently sent emails to music streaming services including Spotify and Apple Music on the subject of AI-made music, warning: "We will not hesitate to take steps to protect our rights and those of our artists."
According to the FT, Universal told these streaming services to take action to block AI services from 'scraping' melodies and lyrics from UMG's copyrighted songs. Whether that covers AI's replication of unmistakable vocal tones and styles from established superstars is another matter.
Expect some fierce debate around the legality of such mimicry to erupt in the months ahead… especially over whether AI copying a star's vocal delivery by absorbing/processing their past audio recordings constitutes an infringement of copyright.
Interestingly, the ghostwriter track doesn't mention Drake or The Weekend anywhere in its title or description on Spotify or Apple Music.
On YouTube (and YouTube Music), though, its video is labeled heart on my sleeve (Drake AI song feat. The Weeknd).
The track appears to have gained its viral power after clips of it were uploaded to ghostwriter's TikTok channel, Ghostwriter977, via multiple short videos, two days ago.
One of those clips has over 9 million plays.
The eponymous 'ghostwriter', obscured by sunglasses and a white sheet in the videos, posted TikToks carrying text like 'Drake leak or Ai??!' and 'I used AI to make a Drake song feat. the weeknd'.
---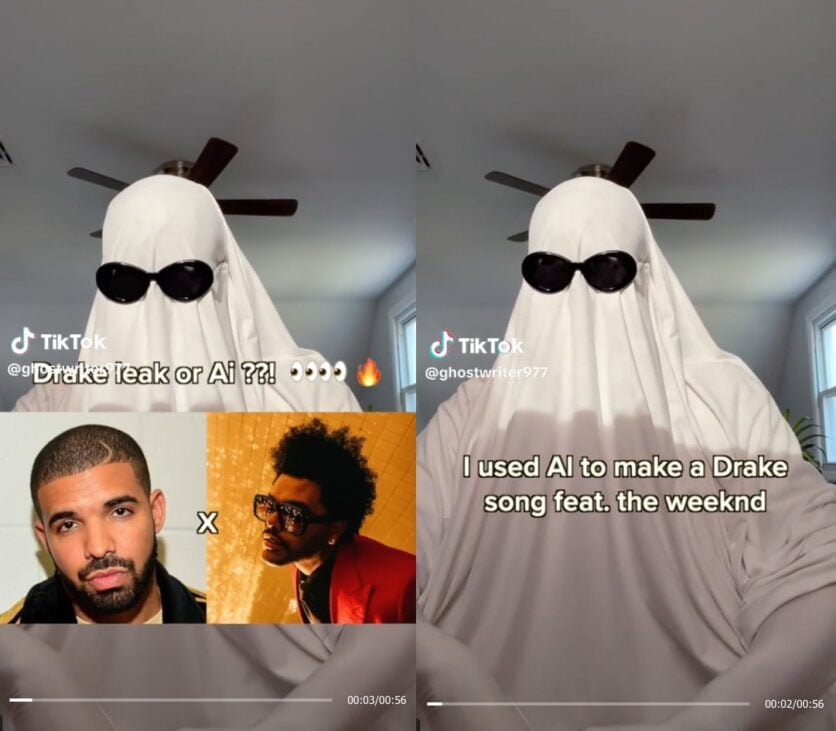 ---
Speculation is already bubbling over what response UMG might have to the track, especially in terms of (a) the music streaming services currently hosting it, and (b) the distribution platform that uploaded it to various music platforms.
One observer, Audiomack's Head of Revenue, Dave Edwards, suggested yesterday (April 16) on Twitter: "UMG has the toughest copyright team around. You couldn't pick 2 artists who are going to provoke a stronger response than [Drake and The Weekend]. Suspect they'll drop the hammer on whatever distributor put this on Spotify."
UMG, via the RIAA, is a member of the Human Artistry Coalition (HAC), which says its goal is to ensure that AI develops "in ways that strengthen the creative ecosystem while continuing to recognize the unique and irreplaceable role of human artistry in culture and the arts."
One idea: Could an organization like HAC soon encourage a code of conduct within the music industry via which distributors of content must use (ironically enough) AI scanning tools to determine if vocals lines have been outright copied from human artists?
Especially if those human artists are globe-straddling superstars like Drake, Rihanna, and The Weeknd?
Today's news comes two months after French DJ David Guetta posted a viral video, recorded at one of his live sets, in which he played a vocal that sounded like it had been recorded by Eminem – but in fact was an AI replication of the rapper's voice.
Commenting on the video on social media in February, Guetta wrote: "Eminem bro, there's something that I made as a joke and it works so good — I could not believe it!"
He added: "Basically you can write lyrics in the style of any artist you like, so I typed: 'write a verse in the style of Eminem about future rave,' and I went to another AI website that can recreate the voice. I put the text in that and I played the record and people went nuts."
Guetta later wrote under the video: "Obviously I won't release this commercially 😃".
---
Last week, MBW reported that fears around the power of AI music-making had started to creep into the thoughts of analysts attempting to rank the value of major music companies' stock.
On April 5, William Packer, a media specialist at BNP Paribas Exane, downgraded his view of UMG's commercial potential while expressing specific concerns over whether AI-made music could impact UMG's market share.
Packer also wrote that "AI is a new disruptive threat" to music rightsholders, where "a glass half full industry narrative is holding… for now".Music Business Worldwide


[ad_2]
Source link