[ad_1]
Fans of the Emmy Award-winning Netflix series "Our Planet" found themselves enthralled by a world of disciplines, including eye-catching cinematography of majestic animals and landscapes and stirring narration by David Attenborough. A concert version coming to the Paramount Theater at 7:30 p.m. on Sunday will give audience members a chance to immerse themselves in the music.
Composer Steven Price said he has been looking forward to sharing the "Our Planet" live concerts with audience members since 2018. His all-new orchestrations will unfold while footage from the series appears on the Paramount's massive screen.
"I wanted it to feel like a standalone journey – a proper trip around the planet," said Price, who will conduct an 18-member orchestra. "There are moments we hope you might laugh, and moments when you might cry."
A manatee's search for its mate stirs a variety of emotions, for example. Price also recommends keeping an eye out for footage from the Arctic that is "terrifying in one way and kind of beautiful in another." 
Being back in front of live audiences has been rewarding after long delays created by pandemic safety precautions that shuttered performance venues, he said. Price said the live experience is well worth the wait.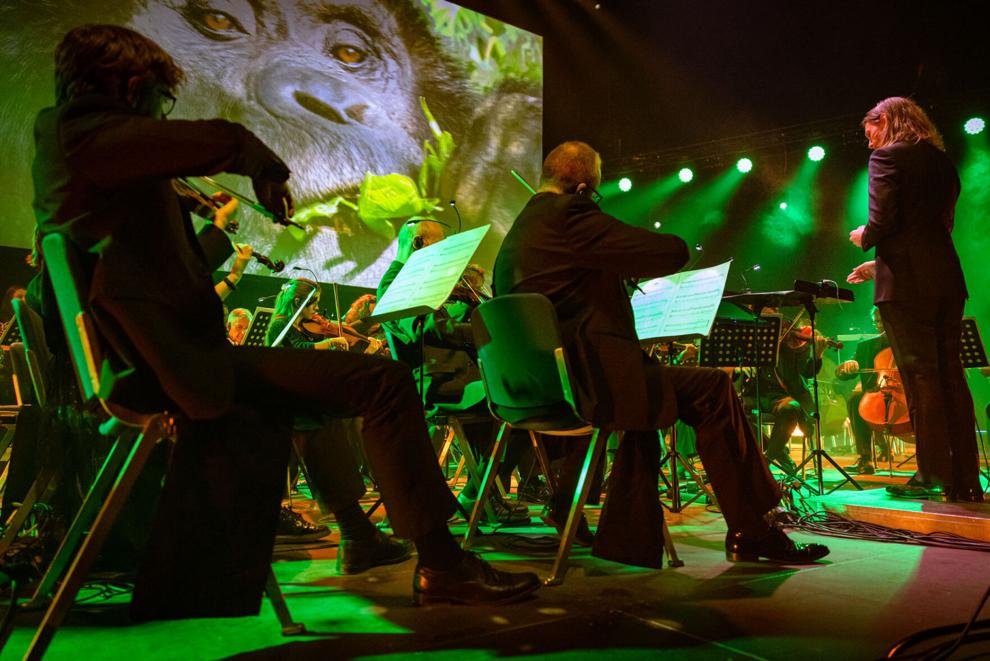 "We were supposed to do this tour in 2020," Price said, adding that he took advantage of the delays to work on the music. "The whole theme is just sharing the planet, and that it's worth preserving. It has felt more and more like a celebratory show."
Price said the show is appropriate for all ages, and there's no age limit on sheer wonder.
"It's amazing to watch people's faces," Price said. "I think being with people in a communal experience reminds us that we're all in it together. We try to take people on a journey.
"I look out and really see people immersed in the audience. It's for everyone, and that's one of the happiest things for me."
Price said that delaying the concert version made it possible to include encouraging updates about conditions some of the animals featured in the footage and their habitats are facing.
"There's a lot of hope in this show," he said. "There's a whole sequence in the show about solutions."
The British film composer, a guitarist since the age of 5, won an Oscar for best original score for "Gravity" in 2013. He made his film-scoring debut with the horror-comedy "Attack the Block" after contributing to "The Lord of the Rings" trilogy and "Batman Begins." In another project focusing in the wonders of the natural world that teamed him up with Attenborough, Price picked up a British Academy Television Craft Award for his work on the 2015 predator-prey series "The Hunt."
The Charlottesville performance is happening about a week before Earth Day, which falls on April 22, and Price said that working on the "Our Planet" music has deepened his own appreciation for the earth and its creatures. 
"One of the incredible things for me was working with the filmmakers and the World Wildlife Fund, which has been with it from the beginning," Price said. "Certainly, I felt more connected to it. I used to watch the news and get overwhelmed by it." After his enriching experience with the project, now he realizes that "everything links to everything else. It's a big interest of mine."
Tickets for the Paramount concert are available in person from the box office, online at theparamount.net and by phone at (434) 979-1333. A donation will be made to the World Wildlife Fund for each concert.
[ad_2]
Source link