[ad_1]
The award-winning conductor will lead the ESO through his composition, Symphonic Variations – Avenue House, about his childhood home in London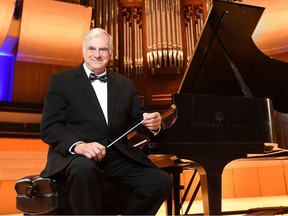 Reviews and recommendations are unbiased and products are independently selected. Postmedia may earn an affiliate commission from purchases made through links on this page.
Article content
It wasn't until he reached the age of 70 that Michael Massey, the much acclaimed and awarded classical musician who calls Edmonton home, decided to try his hand at composing music, moving from behind the keys to behind the pen.
Article content
Massey's latest composition, Symphonic Variations – Avenue House, will not only be performed next weekend, but he'll be conducting the Edmonton Symphony Orchestra through it. This will be the first half of Thrill of a Lifetime: A Special Concert for the Future, happening April 15 and 16 at the Winspear Centre.
Article content
Massey's latest work was inspired by his reminiscing about a special time and place from his childhood spent in London.
Massey came to Canada with his family when he was 12, but a park near his home holds strong memories for him, even six decades after leaving the United Kingdom. Called Avenue House, Massey has fond memories of the place where he grew up as a young boy in post-war London.
"It was such an amazing place for me. Those memories of playing in that park were so strong, and it was such a magical place," says Massey, now 77. "It had an old manor house and all of these ramparts where we played. It had these wonderful greens and ponds and trees, these amazing trees."
Article content
It wasn't until the advent of the internet in the early '90s that Massey would search out the history of the fantastical place from his early years. What he knew as Avenue House is called Stephens House and Gardens, after Henry Stephens, the heir of the Stephens Ink Company; his father had invented an indelible blue-black ink upon which the family fortune was based.
Stephens donated Avenue House to the Borough of Finchley in what is now North London at the turn of the 20th century. The house is now a meetings and events venue, while the park is open to the public, the same park that made such an impression on a young Massey.
"Since my life has been music all the way, it was a natural thing that a really special part of my life would start to take form in music," says Massey. "You put your soul on the line, you put your whole personality out there. I started and found it such an intriguing process."
Article content
Massey's themes throughout Avenue House take inspiration from his idyllic childhood world and the history of the place, with a section dedicated to the "Inky" Stephens and another to the trees and natural spaces of Avenue House. He even included one section each on fire and rebirth; major parts of Stephens House were damaged in a fire in 1989, then restored.
Massey is a staple of the classical scene in Edmonton, having studied piano in the city since moving here. He received a bachelor of music from the University of Alberta, then relocated to Switzerland to continue his education. He made his way back to Edmonton, performing with the Edmonton Symphony Orchestra and earning a spot as a cellist, his second instrument, after auditioning on a dare in the early '70s.
Article content
This was at a time when the symphony was undergoing professionalization, moving from evening to daytime practices, with musicians moving from part-time to full-time performers. Massey was playing as a contract pianist with the orchestra at the time, and there were full-time positions available.
"A lot of people had to make decisions about, do I give up my day job to be a full-time member of the symphony with day-time rehearsals," says Massey.
His decision to fully commit led to not only employment but accolades that stretch back decades. He was inducted into Edmonton's Cultural Hall of Fame, named to the Alberta Order of Excellence, and last December named to the Order of Canada.
"I am one of the lucky people who find their niche that's well suited to what they do. I think the jobs I have done over the years have been well-suited to my talents."
The Avenue House debut is only one half of the Thrill of a Lifetime: Special Concert for the Future. The second half will be a joint performance by the ESO and the Edmonton Youth Orchestra of Scheherazade by Russian composer Nikolai Rimsky-Korsakov. While Massey has been the director of the youth orchestra since 1977, guiding generations of classical musicians in the city to careers in the arts, Bill Eddins will be conducting the EYO next weekend.
[ad_2]
Source link