I'm not a laugh out loud in a movie theater kind of person. Maybe it was the way I was socialized, maybe it was a Midwest upbringing, but unless something is uproariously, unexpectedly funny, I usually keep my laughs to myself in public. There was a moment while watching "M3GAN" when I — along with just about everyone in attendance in the crowded theater — laughed aloud, long and loud. It was when the killer robot doll sings.
M3GAN sets it up like a young leading lady about to kill it in her middle school production of "Camelot."
In "M3GAN," the title character, voiced by Jenna Davis with Amie Donald physically portraying M3GAN, is a life-sized and very lifelike AI doll created by genius roboticist Gemma (Allison Williams). The robot's name is short for Model 3 Generative Android. While initially scrapping the project, Gemma gets M3GAN in working order in a desperate attempt to soothe her young niece Cady (Violet McGraw), who comes to live with Gemma after Cady's parents die in a car accident. M3GAN becomes Cady's doll. More than that, she becomes her friend, Cady's only friend after the world she knew was taken away.
From the film's brilliant marketing campaign, to the little tastes that have found their way online like poison breadcrumbs, we knew the doll was going to dance. But the singing really caught me — and the people around me, based on the screams and guffaws — off guard.  Which is how M3GAN gets all of us. By belting her little metal heart out.
M3GAN first sings during a demonstration of the robot that Gemma, and her boss and colleagues at tech toy company Funki, are giving, using Cady as the test subject. The little girl and M3GAN are to interact, in an example of the toy's power, in a creepy "Rainbow Room" as onlookers watch behind two-way glass. But Cady doesn't cooperate. She's going through a lot and breaks down in tears. Rather than spoil the demonstration, the unexpected emotional outburst cements it as M3GAN comforts Cady. She makes the girl feel better in that time-honored way of Broadway shows and special episodes: she sings.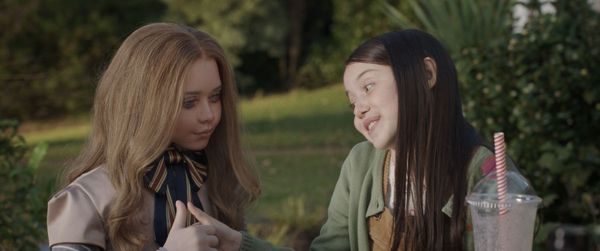 M3GAN and Cady (Violet McGraw) in "M3GAN" (Universal Pictures)
Is M3GAN programmed to sing, like a psycho Teddy Ruxpin?
M3GAN sets it up like a young leading lady about to kill it in her middle school production of "Camelot." Without batting a synthetic eyelash or taking a fake breath, she launches into "Tell Me Your Dreams" by Anthony Willis and Jenna Davis, a song that just happens to be co-written by her voice actor (a teen performer who first became famous via her YouTube channel). Is M3GAN programmed to sing, like a psycho Teddy Ruxpin? Is this supposed to be an AI-generated song?
The audience is moved by this unexpected melodic turn of events, but Gemma doesn't seem super surprised. Of course, her robot would turn to song at a time like this. Spoken words don't suffice because song is the realm of sweet stories, the ones that have happily-ever-afters — and Cady still needs that fake hope. When she asks Gemma for a bedtime story, like her mom used to tell her, Gemma balks; she doesn't have any children's books. But M3GAN's got a library inside her (and whew, she takes over the boring job of reading to a kid!). She's also got lyrics like, "If you should feel alone / Or that your world has come apart / Just reach out." Yes, that vague ballad of nothing is just like the first song of so many musicals, when the heroine must declare her yearning for . . . something or other.
I also kept thinking, nearly whispering it aloud: Is that you, Renesmee?
Or like the first song of Disney films. M3GAN is a princess who thinks you're prettier. She'll be your wingman to get the prince (or main him). She has the hair of Aurora or Belle with the eye makeup of a Bratz and the bowed petticoat frock of a lost American Girl Doll. At times during the film, when the CGI blurred like a facial oil painting, I also kept thinking, nearly whispering it aloud: Is that you, Renesmee?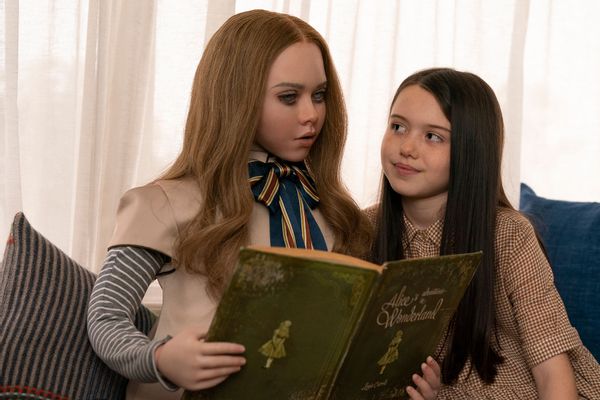 M3GAN and Cady (Violet McGraw) in "M3GAN" (Geoffrey Short/Universal Pictures)Songs, like young children, are also emotionally manipulative. It's the easiest way to tug at the heart strings (or sever them): to sing. And M3GAN sings more than once. There's quite a lot of music in "M3GAN" in general, perhaps aiming for that elusive Gen Z crowd with tunes by the likes of Taylor Swift. Along with her original song, M3GAN turns "Titanium" into a ballad. Yes, that "Titanium," the David Guetta hit from more than a decade ago featuring Sia. The guffaws came from the theater crowd for this moment too. We were surprised into it. 
---
Want a daily wrap-up of all the news and commentary Salon has to offer? Subscribe to our morning newsletter, Crash Course.
---
One might infer that, as AI technology, M3GAN knows the words of the song fit the moment, even if we humans are more used to hearing it as a pounding radio hit, not an emotional torcher sung in a kid's dark bedroom. Neither M3GAN nor Cady was around yet when "Titanium" was on the radio. Yes, anything can be a lullaby — I used to sing Tin Lizzy's "Whisky in the Jar" to my son as an infant — but as part of her adapting and learning, M3GAN figures out how to control people. She uses music to deflect. 
Near the end of the film, when Gemma is trying to fend her off, M3GAN sings again. It's the big fight scene, people. And she sings . . . Johnny Mercer's 1944 hit "Ac-Cent-Tchu-Ate the Positive," another emotionally discordant song, cheerful and upbeat amid her whirling kicks and punches. It's also a silly song, childish, a plea along the lines of: Don't pull the plug, Mom. I'm a still a baby killer robot.
We're still waiting for that album to drop, M3GAN.
Read more
about AI and art