Inside a sleepy strip mall on the city's northwest side lurks a musical giant.
TerryJosiah Sharpe hunkers in front of a large soundboard, moves his cursor around a screen and presses play. The music that pours forth from the speakers would make even the most avowed nondancer's hips wiggle.
Sharpe mouths along with the lyrics and plays imaginary keyboards, drums, guitar. His face squeezes and expands through a range of emotions.
Today's track, "Rainbow," an original pop song featuring Colorado Springs singer Zhê, was written by Sharpe and his team of musicians at the new music studio Anthem Music Enterprises. It's what Sharpe calls an Impact Anthem — signature songs he creates for nonprofits — and was designed for Inside Out Youth Services, a nonprofit that works to create a safe space for LGBTQIA2+ youths and their allies through education and outreach in El Paso County.
"We sit and figure out what their voice is and create a song tailored toward their mission," Sharpe said.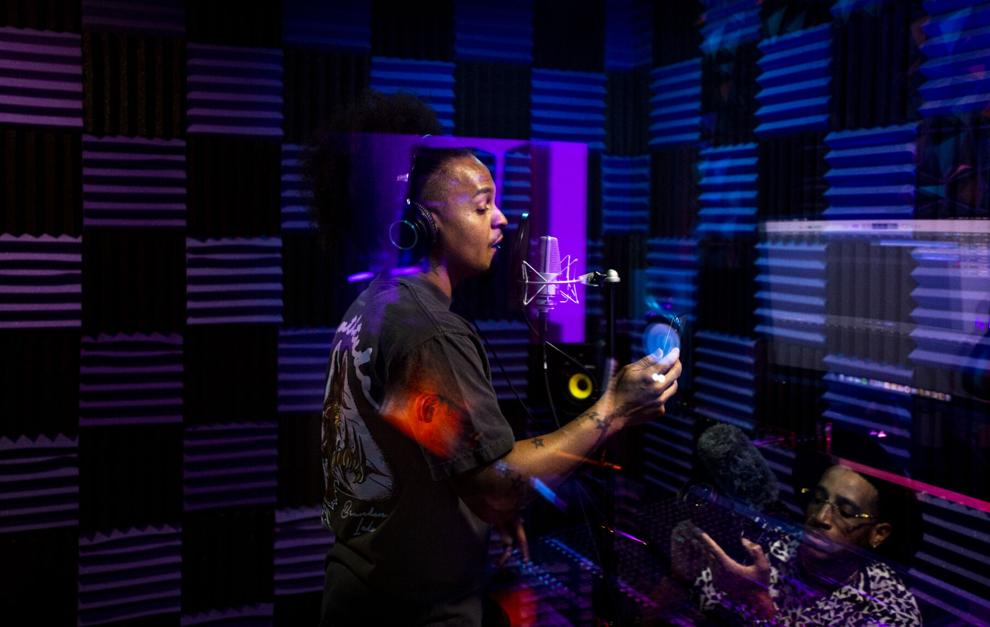 "We put a marketing plan behind that song so we can raise awareness, or at least get people to have a conversation about what that cause is."
For Inside Out, where the work centers on risk prevention and conversations about heavy topics, creating the song was a golden opportunity.
"This was a chance to celebrate queer joy in all its forms," said Inside Out communications manager Liss Smith. "They were intent on getting our voice. It felt like a collaborative effort. Phrases in the song are from listening sessions with young folks — these are literally the voices of Inside Out."

12 weekend things to do around Colorado Springs and beyond: Hot air balloons, Seven Peaks Festival, Thunder in the Rockies and more
Anthem, a multimedia music gallery, is a one-stop shop for musicians and other creatives who need to create content or record music or voice. Set designs are available for videos, promos or performance shots, and a large room in back with a stage and lighting is available for corporate gatherings and album listening parties. It's where Sharpe's younger brother, singer-songwriter JJ Sharpe, recently celebrated "J," his multigenre debut album that was recorded at Anthem.
"The beautiful thing about music, and especially here in this city, is because there are so many different transplants there are so many different influences of what this city's voice is," TerryJosiah said.
"Over the last three years we've been helping mold the city's voice in music. It's not that nobody hasn't tried that, but everybody's so spread out."
TerryJosiah doesn't only crank out new music for nonprofits, he's also behind the production company Urban Classic, a mingling of urban artists and classically trained musicians who play original urban jazz with a touch of classic pop. What started as a drum circle grew into a yearlong residency at The Gold Room, where an interchangeable group of 28 mostly Springs musicians did three-hour improv shows. The event then landed at the downtown venue Epiphany, which was shut down this year and left Urban Classic without a current home base. The group will perform Oct. 7 at CO.A.T.I. food hall downtown and Nov. 12 at Ent Center for the Arts to celebrate its debut album that drops on Nov. 11.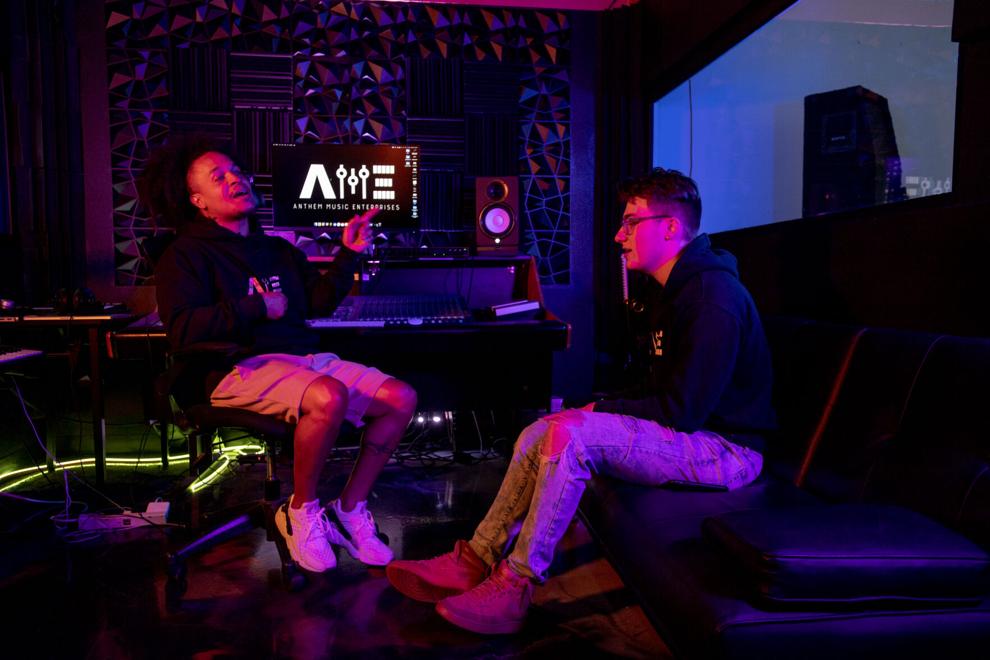 "It's electrifying. We bring an experience equal to no other act in the city," said JJ, a core member of Urban Classic. "We feed off the crowd and engagement and emotion. We bring the crowd into the show — you're involved in it, you're not just watching it."
A musician from the start
TerryJosiah, who grew up in San Diego, is a musician from childhood, though he took a big detour along the way at 18 when he joined the Army after 9/11.
After six years and two tours to Iraq, he got out and went to college in Texas, where he won college songwriter of the year and scored a slot at an indie artist label.
Six months of touring was all it took for him to realize he preferred being behind the scenes helping others pursue the spotlight: "Being able to help uplift other people has been a huge joy of mine."
After moving home to San Diego, he embarked on an entrepreneurial life, which included making music for nonprofits. Five years ago, TerryJosiah moved to the Springs with his wife, Kristen Faith, who founded Break the Silence Against Domestic Violence, a nonprofit, and is now CEO of The Nonprofit Makeover, which helps traditional nonprofits increase their presence and offerings through digital marketing, planning, coaching and online fundraising. They were courted by local philanthropists who felt the couple's work would be a boon to the Springs.
"Vulnerability is what he brings out best," Quron Witherspoon, who goes by Q the Rebel, said of TerryJosiah.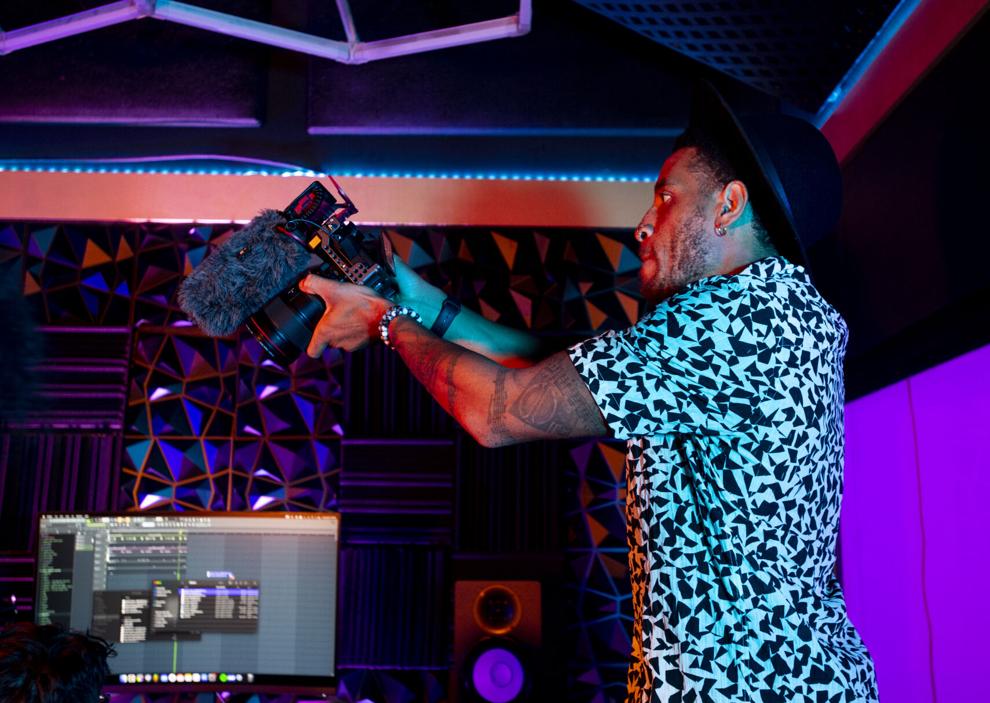 Witherspoon is a Los Angeles-based executive producer on Urban Classic. "When you have somebody comfortable being vulnerable, you're going to have special things," he added
Anthem started at TerryJosiah's dining room table three years ago and expanded to his basement, where he spent the last two and a half years before moving into his brick-and-mortar building at 975 Garden of the Gods Road. He soft launched in July, officially opened Sept. 1 and is booked until October.
"In creating a music company, it's more than just the music," TerryJosiah said. "The music is the easiest part. Everybody involved is very skilled at what they do in terms of creating. It's being able to get what we feel needs to be heard heard."
Zhê, who occasionally sings with Urban Classic and also bartends and sings at downtown club Icons, met TerryJosiah when he arrived in town and taught songwriting at Colorado Springs Conservatory.
"He cares about art and expression and values bringing people together and letting their light shine," she said.
"It's beautiful to see the people he's pulled into this space. It's become so familial and it feels like a safe, comfortable space."
Building community is TerryJosiah's No. 1 intention. That and making sure people see excellent musicianship and solid shows.
"Then they believe in what's happening because they feel it," he said.
"Art is just emotions translated. If we can get people to feel those emotions I feel like we've done ourselves a success with the art."
Contact the writer: 636-0270
Source link